Cooking with a microwave
Cooking with a microwave
Hi all, and welcome back to my home and garden blog.
I'm currently having my kitchen renovated and am left without a cooker. I have access to 2 hobs but after about a week of pasta dishes I am getting a tiny bit fed up of such carb heavy meals so went out on the search for a microwave. I bought a great one from an online classified ads website, check out this link: http://www.australia.for-sale.com/microwave, and have been on the search for some great quick and easy, and unbelievably tasty recipes.
Here's 4 of my favourite microwavable meals, but for more ideas check out buzzfeed's dorm room microwave meal tips.
Jambalaya
- 400g can of chopped tomatoes
- 2 cups of easy-cook rice (pre washed)
- 1 yellow pepper
- 1 red pepper
- 2 chorizo sausages
- 198g can of sweetcorn
- Cajun seasoning
- Salt and Pepper to taste
- Parsley to serve
- Soured cream
Combine the chopped tomatoes with the rice, and 400g of water. Chop up the peppers and chorizo and add in alongside the sweetcorn and season with the cajun seasoning and salt and pepper.
Put in a microwavable bowl and cover with cling film. Pierce a couple of holes into the cling film and microwave for 10 mins at 750W. Take out of the microwave and remove the cling film. Stir well, and return to the microwave for 12 – 15 minutes. If the rice isn't cooked put back in until cooked.
Chop the parsley and stir through the Jambalaya. Serve into bowls and add soured cream on top.
Butternut squash risotto
- 250g arborio rice
- 700ml chicken stock
- 1 medium butternut squash
- 50g Parmesan (finely grated)
- 1 teaspoon Chilli flakes
- Basil leaves (chopped)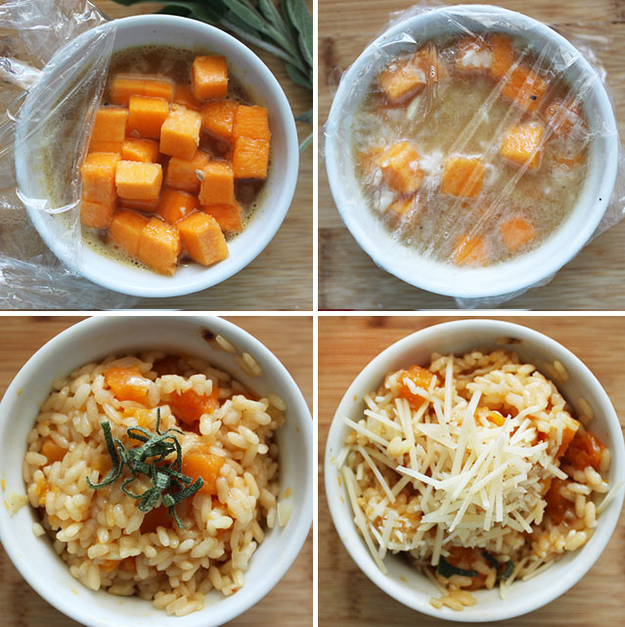 In a large microwavable bowl mix the rice with 500ml of the chicken stock. Cover either with a lid or cling film and microwave for 5 mins on 750W or high. Peel and cut the buttnernut squash into small cm sized chunks and add to the rice alongside the rest of the stock and the chili flakes. Re-cover with the lid and microwave for another 10 minutes. Take the bowl out and stir well and microwave again for a further 5 minutes, or until all the stock has been absorbed into the rice and the squash is soft to touch.
Stir in the parmesan and basil leaves and add to bowls. Top with additional parmesan.
Salmon parcels
- 2 salmon fillets
- 2 small leeks
- 50g of peas, either fresh or frozen
- 4 tablespoons creme fraiche
- 1 tablespoon fresh tarragon (finely chopped)
- 2 garlic cloves
- Soy sauce
- Salt and pepper to season
Take the Salmon fillets and season with the salt and pepper. Finely chop the garlic and mix with the soy sauce. Finely slice the leeks. Cut 2 squares of greaseproof paper, approximately 40cm squares and put the salmon in the middle.
Pour the soy sauce mixture on top of the fillets and top with the leeks and peas. On top of add 2 tablespoons of creme fraiche per parcel. Sprinkle with the tarragon.
Make into parcels and place them onto a microwavable plate. Put in the microwave for 5 minutes on 750W or high.
Serve with a jacket potato or large salad.
Vegetarian Chilli
- 1 small red onion, (finely chopped)
- 2 garlic cloves (finely chopped)
- 1 tablespoon butter
- 400g chopped tomatoes
- 400g kidney beans
- 1 vegetable stock cube
- 1 teaspoon cumin
- 1 teaspoon paprika
- 1 teaspoon chili flakes
- 50 g dark chocolate
- Soured cream
- Coriander (finely chopped)
In a microwavable bowl add the onion, garlic, butter, cumin, paprika and chili flakes. Stir well and microwave on 750 w or high for 30 seconds. Remove and leave to cool down for 1 minute. Drain the chopped tomatoes but keep the juices. Add the tomatoes, kidney beans, stock cube and chocolate to the onion and garlic mix. Cover with cling film and pierce 2 times. Put into the microwave and cook on 750 w or high for 2 minutes. Remove from microwave and stir. If the mixture appears a bit dry add some of the juices you saved earlier.
Cover and cook on 500W or medium for an additional 2 minutes. Remove from the microwave and leave for 1 minute. Stir well and add to bowls. Top with the Soured cream and the coriander.
As much as I am enjoying learning how to cook with a microwave, and I have to say there has definitely been so much more I have been able to cook than I first thought, I can't wait to have my kitchen back again. And as soon as I do I will set it up with myhome automation system we looked at a couple of weeks ago. I am counting down the days!